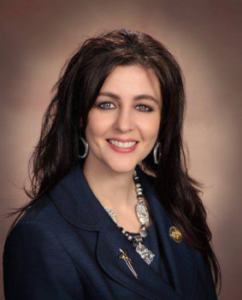 Ronna is a fourth generation minister. She is very humbled to have been raised by great-grandparents, grandparents and parents that loved and served the Lord. Growing up, she was a witness through their ministries to the power of God with signs and wonders following.  Little did she realize that all those revivals in churches, tent meetings, fairs, conferences, and even brush arbors on the side of the road were molding and opening the door for God to continue His plan through her life.  As a little girl, Ronna loved the Lord and couldn't wait for the services to start. Early in her life she knew that God had called her to serve, but was unsure into what field. She was certain she had the gift as a prayer Intercessor and began to have spiritual dreams and visions from the Lord.
     "The first gift I noticed was the gift to pray and intercede.  At a very early age, around 6 or 7 years old, I remember going so deep into the spirit and praying in tongues that I couldn't come out it.  After many of my father's services I had to be carried out of the church and straight home to bed." 
​     Ronna was an extremely quiet and shy child in her early years. Her mother was quoted to say, "that you would never know she was around. She was so backward."  Ronna began playing the drums at nine and she was part of the praise team.  She was comfortable being hidden behind a set of drums. One Sunday morning in church, she was playing the drums with her grandfather, Rev. Charles Taylor, who was ministering on the platform. During that service her life would change forever.  Rev. Taylor announced that the Lord had spoken to him and that his grand baby would be ministering during that service. He turned and beckoned young Ronna to come and take the microphone.
     "Oh my goodness, I thought I would die! How could he do this to me? I cannot speak to a crowd! I was so horrified, he had given me no warning! I was so scared that I started to tear up. People thought I was in the Spirit, but the truth was I was mad and scared. I was just fifteen years old at the time and I will never forget that feeling."
     She stood there quietly as the congregation stared. Ronna closed her eyes and her journey in prophecy began.  That morning she ministered to each and every person with a prophetic word from the Lord.  That service was the beginning of a move of God that would grow and touch many lives, especially Ronna's.
Over the next twenty years, Ronna would serve God in many ways.  She played on the praise team, lead a prayer ministry, worked part-time in the church office and the Christian school associated with her church.  Ronna volunteered as a Sunday school teacher and a youth pastor for three years, as well as speaking and ministering regularly during church services.  She occasionally traveled on the road to minister at different conferences and revival meetings. For several years, Ronna lived near Nashville, Tennessee.  During that time, God opened the door for her to mentor and speak into the lives of The Crabb Family, a Christian songwriting and singing group.  The Crabb Family are powerful ministers for Jesus Christ.  During each opportunity to minister, she grew as a person and as a Prophetess.
Ronna is happily married to her husband Jason and have two amazing children.  A son Taylor,  is serving in the Armed Forces and a daughter Isabella.
She is an appointed and anointed prophet. God has given her what she has called a "trumpet to blow and a NOW Word for the church." She speaks the Word of God with passion and boldness surrounded by Love.​
Speak life over every situation…
"Death and life are in the power of the tongue; and they that love it shall eat the fruit thereof."  
Proverbs 18:21
To speak life is more than creating a positive atmosphere from a negative situation. The word "power" in Proverbs 18:21 gives us direction to speak life. When we believe in our hearts and confess with our mouths, mountains move. What you speak about, comes about. Declaring the word of God over what you see, feel, hear, and experience will guide you in the direction of victory. It is the authority that was given to us by Jesus!